The Virginia Aquaculture Conference is pleased to welcome back Paul Zajicek, the Executive Director of the National Aquaculture Association.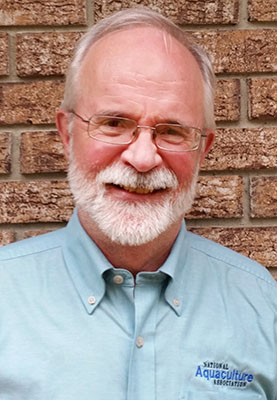 Grassroots Advocacy to Move the Needle for US Aquaculture 
During 2021 the National Aquaculture Association celebrated its 30th year by focusing on farmer advocacy and not on celebration.  How the NAA advocates, how you can advocate, the importance and value of aquaculture associations, and the key issues we are focusing on to move the needle for US aquaculture, to include but are not limited to: crop insurance, aquatic animal health, pandemic and catastrophic disaster assistance, economic development, applied research, public education, offshore farming and federal regulation will be presented. 
Paul Zajicek, Executive Director, National Aquaculture Association: 
The NAA was formed by commercial aquaculturists in 1991 to advocate for US aquaculture and provide science-based information describing US aquaculture to the public.  Mr. Zajicek served with Florida Dept of Agriculture and Consumer Services for 27 years in marketing and promotion and regulatory roles culminating in managing Florida's "one-stop shop" for aquaculture regulation. He was a longtime NAA member and joined the NAA staff on a full-time basis in November 2014. 
8:00 am – 11:30 am
11:00 am – 4:00 pm
10:30 am – 11:30 am
12:00 pm – 1:00 pm
1:00 pm – 3:00 pm
Trade Show registration and Exhibit set up
General Registration
S.T.A.R. Project Workshop for Shellfish Growers (Shellfish Thresholds, Aquaculture Resilience) 
*Conference Welcome and Trade Show Opening
General Program Session
The State of Virginia Aquaculture  –Brendan Delbos, Virginia DWR
Grant Opportunities for Producers  –Tony Banks, Virginia Farm Bureau & Stephen Versen, VDACS
Federal Risk Protection Tools:
Clam & Oyster Crop Insurance Changes  -Alexander Sereno, USDA/RMA
Assessing consumer behaviors – are pandemic trends temporary? 
-Jonathan van Senten, VT Seafood AREC
Managing Your Farm During Uncertain Times
-Carole Engle, Engle-Stone Aquatic$ LLC
3:00 pm – 4:00 pm
4:00 pm – 5:00 pm
5:00 pm – 6:00 pm

6:00 pm – 9:00 pm
*Break / Trade Show Networking
Trade Association Meeting:  Shellfish Growers of Virginia (all welcome)
Keynote Presentation: Grassroots Advocacy to Move the Needle for US Aquaculture 
Paul Zajicek, Executive Director of the National Aquaculture Association
*Reception (in Exhibit Hall)
Saturday, January 8, 2022 (Concurrent Sessions)
*Hot Breakfast (in Exhibit Hall)
Bivalve Shellfish Session
VIMS Shellfish Aquaculture Science Initiative
Gloucester Point Overview and Update, Bill Walton             Eastern Shore Lab Overview and Update, Richard Snyder
Recirculating Aquaculture System Application in a Virginia Oyster Hatchery
Mike Congrove, Oyster Seed Holdings
How Shellfish Farmers Can Make a Difference in the Global Struggle to Curb a Runaway Climate 
Bill Mook, Mook Sea Farm and Shellfish Growers Climate Coalition
Aquaponics, Hydroponics, Finfish Session
Program Updates
Va Dept. Wildlife Resources
Brendan Delbos
Virginia State University
Chris Mullins
VT-Virginia Seafood AREC
Michael Schwarz
VSAREC – SEAMaR
Jonathan van Senten
Virginia Tech
David Kuhn
Institute for Advanced Learning and Research (IALR)
Scott Lowmann
*Networking and Trade Show Break
Bivalve Shellfish Session
Rapid Fire Research:  Snapshots of Relevant VIMS and VASG Graduate Student Research
Moderated by Madeleine Jepsen, VASG
Investigating the Genetic Basis of Low Salinity Tolerance in the Hard Clam
Leslie Speight Youtsey,  Master's Student
Does Cross Breeding Hard Clam Populations Alter Larval Environmental Stress Tolerance?
Anthony R. Himes, PhD Student
Improving Virginia's Ability to Monitor for HAB Toxins
Sarah Pease, PhD Student
Uncovering the Genetic Diversity of Dermo Disease to Strengthen Regional Shellfish Health Management
Elizabeth F. Weatherup, Master's Student
Carry-Over Effects of Environmental pH and Temperature on Oysters
Annie Schatz, PhD Student
Assessing Bay Shellfish Vulnerability to Environmental Stressors -How Growers can Contribute to the Science
Fei Da, PhD Student
Aquaponics, Hydroponics, Finfish Session
Hydroponics/Aquaponics/Food Safety
Food Safety Programming at the Seafood AREC: Updates and Services Provided to Industry
Katheryn Parraga-Estrada, VT SAREC 
Aquaponics in the Classroom
Chris Mullins, VSU
Emerging Technologies for Enhancing Aquaponics Food Safety
Reza Ovissipour, VT SAREC
Bivalve Shellfish Session
Ask a Regulator (open forum)
Danielle Schools and Adam Wood, VDH/Shellfish Safety;
Ben Stagg and Andrew Button, VMRC
Submerged Aquatic Vegetation (SAV) and Shellfish Aquaculture
Regulatory Overview and Perspective
Ben Stagg, VMRC
VIMS Research Update – Quantifying the impacts of oyster aquaculture on submerged aquatic vegetation
Lisa Kellogg, VIMS
Aquaponics, Hydroponics, Finfish Session
Recent Advances
United Sorghum Checkoff Program – SmartFeeds Programming
Michael Schwarz, VT SAREC
Black Soldier Fly Initiative at the Seafood AREC:  Opportunities for Aquafeed Development
Reza Ovissipour, VT SAREC
Assessing the Economic Impact of the Virginia Seafood Industry
Fernando Goncalves, VT SAREC
BMPs to address concerns associated with shellfish aquaculture in floating gear
Organized by Bob Rheault, ECSGA and Mark Amaral, Lighthouse Consulting Group

The ECSGA developed a Best Management Practices module for shellfish farming about a decade ago.  The free, web-based module has been adopted by hundreds of farmers helping them describe their operations and the various steps growers can take to minimize conflict and show how their operations are compatible with other users of the commons.  Subsequently shellfish farmers have developed a variety of novel gear types that restrict navigation and are more visible to boaters and waterfront homeowners such as: Oyster Gro, SEAPA, Hecyl baskets, Flip Farm and flip bags. These gear types bring unique permitting challenges and deserve their own set of Best Practices to minimize conflicts and facilitate permitting.


This panel will bring together resource managers, growers, equipment manufacturers and extension agents to offer methods to minimize conflict and hopefully propose best practices that growers can consider in order to increase their chances of positive permit application outcomes. The workshop will close with an open discussion giving attendees an opportunity to share their experiences and ideas